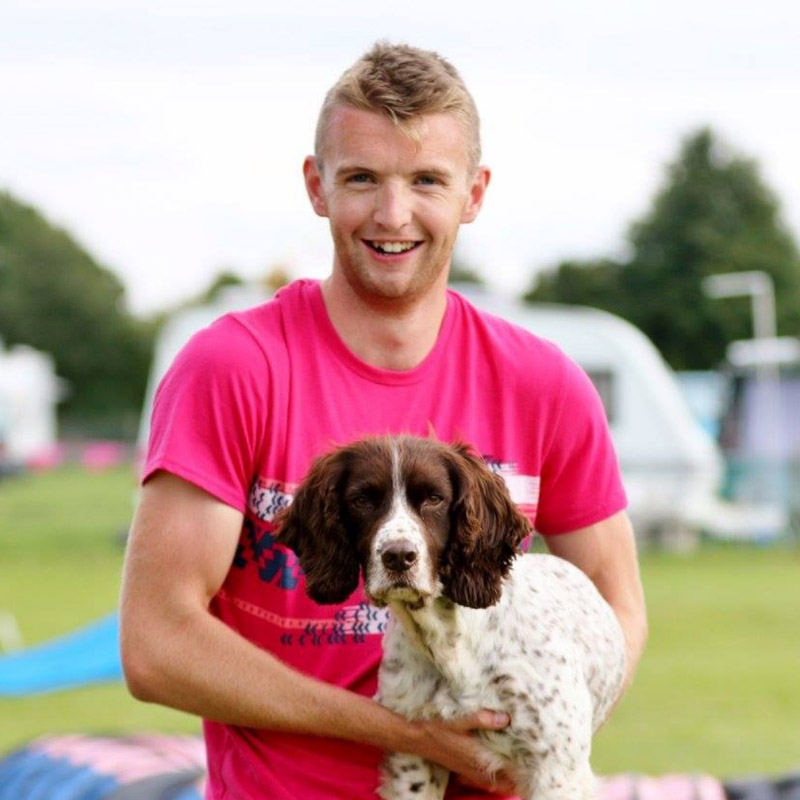 Neil Ellis
How long have you been doing agility?
I am now into my 15th year of being a part of Agility, the first dog show I attended I remember being sat ringside watching my mum compete with her Springer Spaniel and knew from that moment I wanted in, and the rest as they say is history!
What dogs do you have?
I have one, and we have two in the household. Chester, a Sprocker (Springer x Cocker) spaniel (see picture above) is my 14 year old loveable rogue who is enjoying the days of retirement after competing until he was 10. My girlfriend has a 4 tear old Working Sheepdog called Teddy whom she rescued from many tears.
What made you want to get involved with Forever Agility?
You'll see through the 'our story' section of the 'about us' page that the inspiration for this all came from one incredibly resilient, determined and wonderful woman who would not let her cancer diagnosis get the better of her and stop her competing; Ann Hennessy. Like Ann, there are so many other wonderful people that have sadly passed away who had, or those living and competing among us who are still battling with an illness that would benefit from, more support with their day to day lives. That is why Forever Agility is here, to find and help these people.
What is your job outside of agility?
I am an Adult Nurse, and more specifically I work in a specialist Neuro Intensive Care unit at the John Radcliffe in Oxfordshire. I have been qualified for 3 years now.
Where abouts do you live (Town, County)?
I live in a Small Village just outside Banbury, Oxfordshire called Great Bourton
Favourite thing about the agility community?
One thing is for sure, is that we all share a common goal which is to turn up and have as much fun as possible with our furry friends. In a world where agility is becoming ever more competitive, I find it so refreshing that we all have our own way of doing things that brings us to the same outcomes. Whenever support is needed for an individual or event, rest assured you will always have enough people on hand to support or embrace it, and that for me epitomises a great community, and one for sure I want to be a part of.