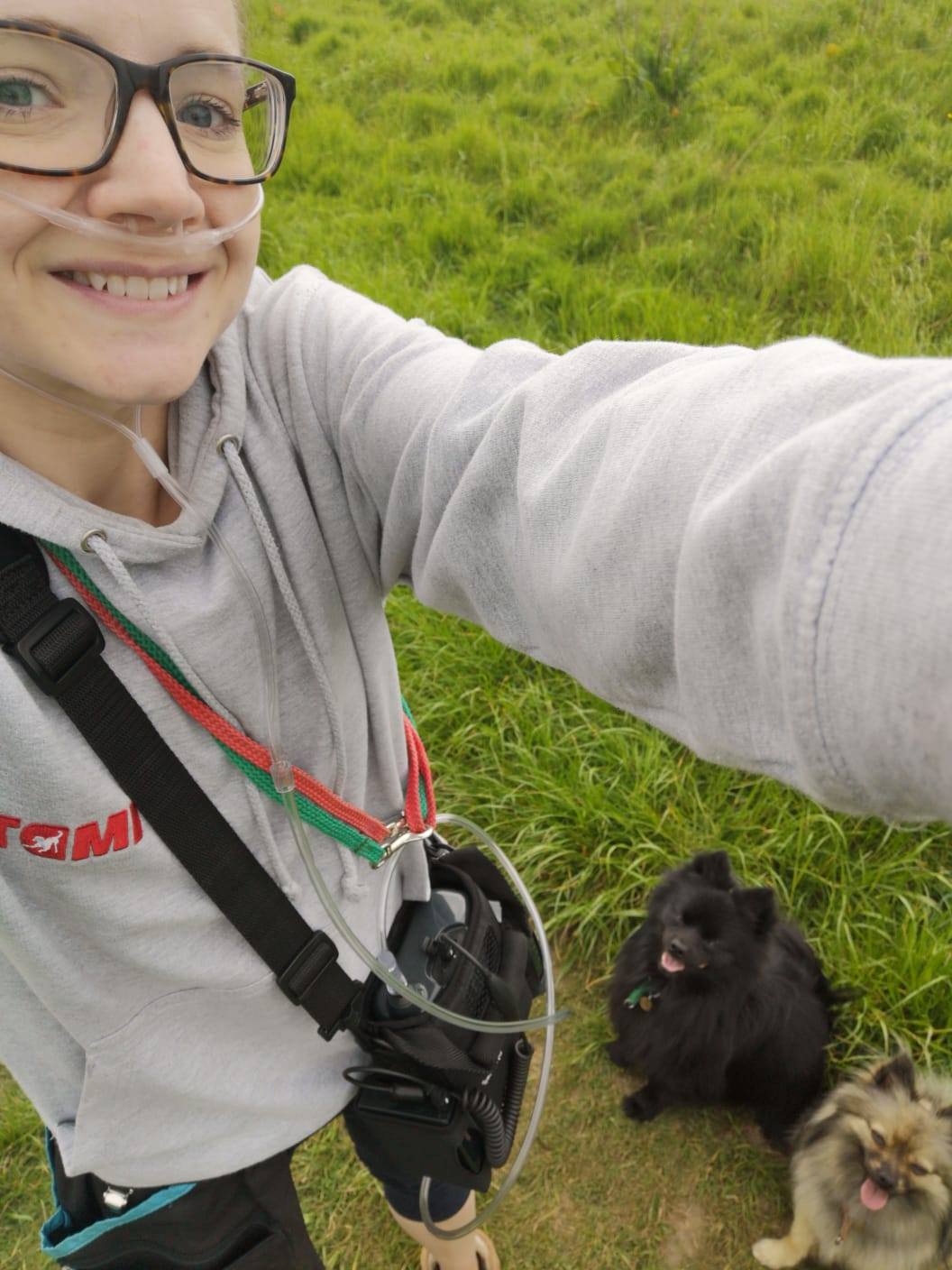 Jackie Hewitt
There has been lots going on behind the scenes here at Forever Agility and we are excited about the momentum that is building around fundraising events currently ongoing that we will update you about in the near future.
But today, we are so very proud to bring you news of a successful grant application that came from an incredible young lady called Jacqueline Maria Hewitt, who suffers from Cystic Fibrosis and is awaiting a lung transplant.
Below, Jackie talks about how the charity grant has helped her with her day to day living, whilst allowing her to continue to take part in agility. This is a record breaking grant that Forever Agility has supported and we could not have done this without the generous donations and the dedication from fundraisers, this is just the beginning and we are so excited for what is to come! Thank you all so very much 💚❤️
"I am 35 years old and have Cystic Fibrosis. I have been involved in agility for almost 4 years now and have two dogs that I run (one still pre-comp). In 2017 and 2018 I was on the ParAgility UK team for the World Championships, first in Austria and then the UK. These events have been the most amazing times of my life. My proudest moment of my life was achieving my first clear round at one of these events, on the last day of PAWC 2018, getting a 4th place in that class. I had been eliminated in all rounds in 2017, so I was completely exhilarated to get a clear.
As my health has deteriorated, and after having to give up work last Summer, agility training and competing has become my entire life. I truly believe that it keeps me alive, through giving me a focus and purpose, and also keeping me as fit as possible.
In January this year, after months of gruelling assessment, I was placed on the waiting list for a double lung transplant. One of the things the hospital drill into you is that despite declining health you have to stay as physically fit as possible in order for them to deem you eligible for transplant. This is because it is an extremely tough operation and the outcomes are much better if you are able to move around as quick as possible afterwards. It is likely I will have a long wait, as the average is 18 months to 2 years. In the meantime I wish to continue caravanning to dog shows and living my best life as much as I can.
Although I knew that I needed the oxygen, and that it would help me, the reality of using it was difficult. The tank they issued me was a refillable one that was pretty darn heavy and bulky. The only way to run with it was in a backpack but anything weighing down on my shoulders like that is extremely uncomfortable. I got severe back and chest pain if I wore it for too long. It's also a problem logistically, for camping etc, as the tank needs to be regularly refilled from a larger holding tank (I also find this very strenuous to do as you have to push the tank down to lock onto the large tank and hold it there forcibly for about 5 minutes while it fills). Even if I don't use the mini tank it still empties itself over time by evaporating because it is liquid oxygen. So it will not last more than a day or two from when it is filled.
Amazingly, Forever Agility were able to give me a grant for a lightweight, portable oxygen concentrator. I cannot describe how much of a game-changer this is for me. The concentrator just needs power to work. I have enough batteries I can get almost 6hrs from in total, or keep swapping and recharging during a camp if I have hook up, for as long as I need. I can also plug it in and use it overnight instead of the huge one I used to take on holidays. I do not have to arrange for a large holding tank to be delivered wherever I want to stay, which was going to be such a burden and so restrictive.
I used the concentrator for the entire time during my recent camp and it was brilliant. I can attach it to a belt so the weight is not on my back, with just a strap across my shoulder for stability. I also have another more casual bag that came with it, for normal dog walks or anything else. It is so light it doesn't cause me a problem.
I'm so grateful to everyone at Forever Agility for this grant, and to everyone who has been fundraising for them. I know it's early days for the charity but already they are making huge changes to people's lives. This concentrator has given me freedom to continue doing what I enjoy for as long as possible; freedom to go to camps, go on long dog walks, keep being independent. Above all, it has allowed me to keep training and running my dogs. Thank you Forever Agility, I am Forever Yours 😍"